In the early 2000s, London and New York woke up with Indian menus that served individual portions of dishes, resplendent with new French cuisine.
---
---
As I walked home from dinner last night, a terrible remix of a beloved Bollywood song was playing on the radio. As all the hairs on my arm rebelled against this mingled tragedy, my mind turned to my dinner, which was a great reissue of a much-loved culinary memory. Blue Cheese Naan, a staple at Indian Accent, has become a staple in many restaurants around the world. But not everyone gets it right, not every time. It got me thinking: is modern Indian cuisine a good thing?
Roots
The wave of modern Indian cuisine, some say, is inspired by New French cuisine, which seeks to produce delicate and light dishes with an added emphasis on presentation. Although that hasn't always been the definition of 'modern' when it comes to Indian cuisine. In the 1980s, it was enough to present food in an elegant and refined way to match the ambience of the restaurant for it to qualify as modern. For more than two decades, it was the mainstay of the modern Indian restaurant. In the early 2000s, London and New York woke up with Indian menus that served individual portions of dishes, resplendent with new French cuisine – the first step towards overhauling curries and their internationalization. But it wasn't until Chef Gaggan Anand and Chef Manish Mehrotra entered the culinary scene that the dramatic changes we are now seeing happened. Their food philosophies were simple. Stick to the flavors but cut the fat. No, I don't want to cut down on ghee or oil in cooking – let me try to walk you through what I think modern Indian cuisine is.
The new base
Reinvention is a pretty loose term these days.
However, real reinvention occurs when the essence of food has not changed, while everything else has changed. Molecular gastronomy is one of the ways to introduce textures into foods. Think popping yogurt balls, chutney mousses, plastics that melt the moment they touch your tongue and, of course, the ever-ubiquitous liquid nitrogen, which is the bread and butter of most 'modern' restaurants. ". The chefs who started the modernist movement used these techniques to enhance the visual and sensory aspects of the dishes they served. They were never meant to take away the traditional essence of what this dish meant.
Soon the whimsical claptraps of spheres, mosses and fumes became the dish's highlights – hashtag-worthy moments that looked great on the plate but disappointed the taste buds.
The third wave
Until half a century ago, international Indian cuisine was relegated to a handful of curries, naan breads and kebab-style meats. Even in India, restaurants served the same types of food under different banners and price tags. The mood has changed, but the menus have remained the same.
It's a shock because the Indian subcontinent has as many cuisines as there are languages. A truly Indian menu would seek to pay homage to all of these diverse cuisines. This is the change brought about by the modernist approach – locally sourced ingredients presented in a fresh way deeply rooted in traditional recipes and techniques.
If you consider that the Mehrotras and Anands ushered in a second wave of modern Indian cuisine, hold your hat as there is a third wave as well. A shift from sit-down meals to multi-course meals meant to appear on your calendar for a celebration, to a casual night out with friends. Small Spanish tapas-style plates that don't seek to impress with whimsical theatricality, but always focus on making you happy.
Chef Thevar of Thevar, Singapore boasts of mackerel and tomato chutneys in dosai wraps and Chettinad chicken rotis on his menu, effortlessly incorporating modern values ​​into centuries-old recipes. Closer to home, chef Manu Chandra combines healthy flavors with an international touch, to the delight of his guests. Adding aam panna to vodka is a stroke of genius. It elevates familiar taste to new heights with thoughtful, symbiotic additions – like I said, maximize flavor, cut fat!
Scam
Have you ever had a favorite comfort food demolished in the name of making it modern? I'm talking about overcooked pasta in a butter chicken sauce and an overdose of basil in the name of Thai pav bhaji! You are not alone, but be glad it didn't nearly cost you your life! In 2017, a more chic cocktail with the ubiquitous liquid nitrogen made a hole in a man's stomach! Thank goodness emergency surgery saved her life, but led to the ban on the use of chemicals in food in Haryana.
Awareness surrounding the use of these modern techniques is minimal. All products need to be processed in a certain way to achieve optimal results. Try frying a croquette in cold oil or baking a pizza in a toaster oven! You get the idea, if things aren't respected and used as they are meant to be, the end product won't shine. No, it will be inedible! Hordes of budding restaurateurs creating flash-in-the-pan modern Indian dishes have given the cuisine a bad name. They focused so much on presentation and gadgets that they forgot the essence of food: flavor and depth. To add to the dismal flavor profiles, overuse of test tubes, syringes, and miniature stainless steel dishes takes away what the food is meant to be. Fortunately, diners are now waking up to avoiding the unimaginative food touted as modern.
The way to go
Keep it simple! The shape is temporary, the flavors last forever. You will always remember the best bread, creamiest ice cream, or mouth-watering pizza you've ever had. But, you risk forgetting a dish loaded with theatricality but lacking in taste. Jiggs Kalra, the force behind restaurants like Farzi Cafe and Masala Library, among others, was one of the first to adapt to molecular gastronomy. He had said he would play with the plating and the shape but not touch the essence of the dish, and that is the key!
Priyanka Chopra's restaurant, Sona, New York City serves dishes like Bengali Mustard Tofu, Feta Malai Kebabs, and Dahi Kachori with Passion Fruit Yogurt. It is a nod to modernity while retaining techniques and Indian profiles that hit the mark, because it takes creativity to be truly authentic.
In good hands, modern Indian cuisine has a bright future! Now please excuse me while I sip my tamarind whiskey cocktail to beat the heat!
Modern Indian Recipes
PODI OLIVES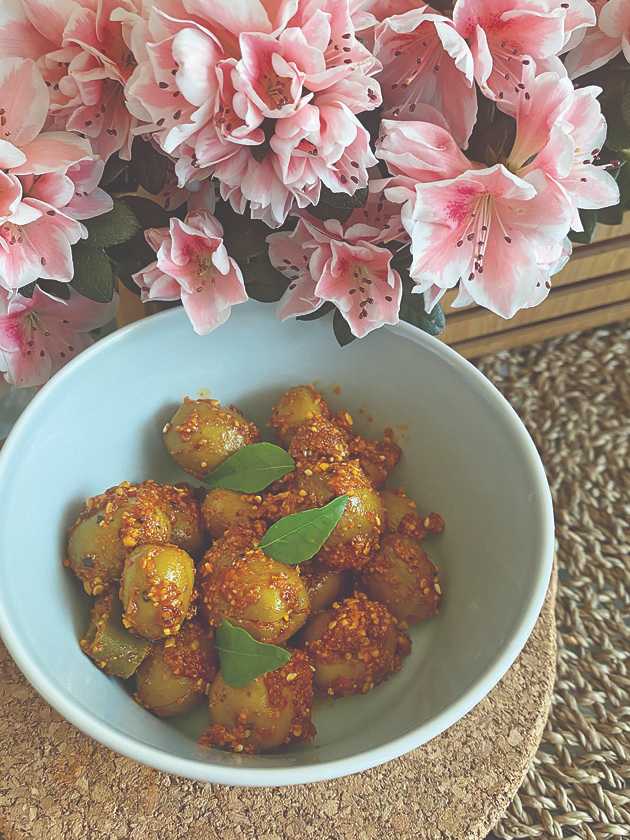 Ingredients
• Olives stuffed with chilli (remove the brine water and wash it) 1 can
• Ghee: 2 tablespoons
• Podi masala: 2 tbsp.
Method
• In a pan, heat the ghee, add the olives. Let the ghee coat the olives.
• Add the Malagapodas to the pan and let the olives coat everything well.
• It is a good snack, can be used as an accompaniment with drinks.
BEET SLICE WITH PEANUT BUTTER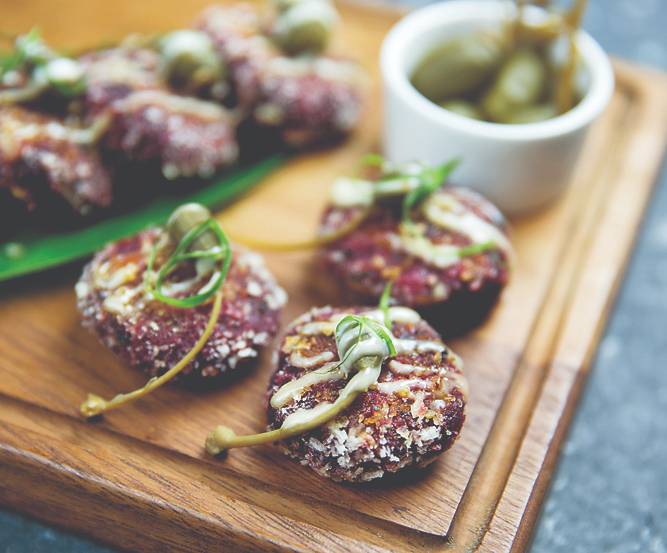 Ingredients
• Roasted beets: 1, cool and grate
• Boiled potato: 1, cool and grate
• Ghee: 1 tablespoon
• Cumin seeds: 1 teaspoon
• Ginger: 1 "
• Garlic: 1 chopped clove
• Green pepper
• Roasted peanuts: handful
• Garam massala: 1/2 teaspoon
• Coriander leaf:
• group
• Salt to taste
• Peanut butter: 5 teaspoons
• Tempura flour: 100g
• Lukewarm water: 50 ml
• panko breadcrumbs
• Wasabi paste: 1 teaspoon
• Mayonnaise: 1 teaspoon
• Lemon juice: ½ teaspoon
• Quinoa: 2 teaspoons
Method
• Heat the ghee in a pan, add the cumin seeds, ginger, garlic and green pepper.
• Add the grated beetroot and grated potato, garam masala. Sauté it and finish it off with a coriander leaf and salt.
• Add the roasted crushed peanuts and mix. Make small balls of this mixture – put a spoonful of peanut butter in the middle and make a ball.
• Combine tempura flour and water.
• Dip the rings in the tempura batter, then roll them in the panko breadcrumbs and toast them in a pan.
• Wasabi Mayo: Take wasabi paste, mayonnaise, salt and lemon juice and mix them together.
• Quinoa puff pastry: Boil the quinoa in water, drain the water, pat dry, bake at low temperature, until crisp.
GOAT CHEESE AND SPINACH SAMOSA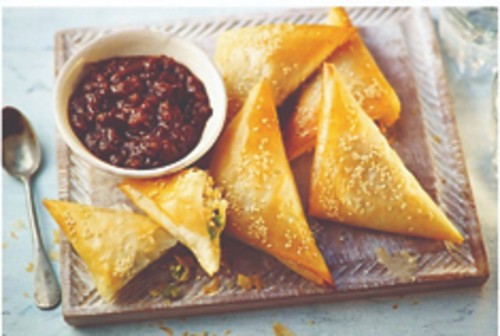 Ingredients
• Vegetable oil: 3 tablespoons
• Mustard seeds: ½ teaspoon
• Chopped onion: 60g
• Ground cumin: 1 teaspoon
• Red pepper powder: c.
• Dried mango powder: 1 to 2 teaspoons
• Boiled peas: 50g
• Salt, to taste
• Chopped dill leaves: 4 tablespoons
• Ready-made filo pastry
• Melted butter, for brushing: 5 tablespoons
• Sesame seeds: 2 tablespoons (optional)
Method
• Heat the oil in a small non-stick skillet and fry the mustard seeds until they start to crack.
• Add the onion, cook 2-3 minutes over high heat.
• Add the spinach and blanched peas, mix well and add the spices, mango powder, salt and a little water. Cook for 1 to 2 minutes, then remove from heat and transfer to a bowl.
• Add the goat cheese and mix well, add the dill leaves and cook 2-3 minutes. Taste and adjust the seasoning.
• Preheat the oven to 200C / 400F / Gas 6.
• Unroll the dough and cover with cling film and a damp cloth. Remove a piece and keep the rest covered so that it does not dry out. Lay the pastry sheet flat on a clean surface and brush with melted butter. Fold into a samosa shape.
• Place a rounded teaspoon of the filling mixture and fold, enclosing the filling and forming a triangle.
• Brush the outer surface with more butter. Place on a baking sheet and cover while you prepare the rest of the samosas. Sprinkle with a few sesame seeds, if using any.
• Bake in center of oven for 30 to 35 minutes, or until golden brown and crisp, turning halfway through cooking.
• To serve, place the samosas on a large serving platter with a bowl of spicy harissa pepper oil.